The Silent Book Contest - Gianni De Conno Award 2020 is the first international contest dedicated to books without words, now in its VII edition. Since 2018 the Silent Book Contest is dedicated to Gianni De Conno, its ideator and creator.
"Bolezn/Che febbre!" the picturebook by the Russian illustrator Rina Allek, was declared winner of the 2020 Silent Book Contest – Gianni De Conno Award by the International Jury.
"Hide and Seek/Nascondino" by British illustrator David Hearn was the winner of the "Silent Book Contest Junior", the Award's new category, whose 12 finalists were adjudicated by a children's jury.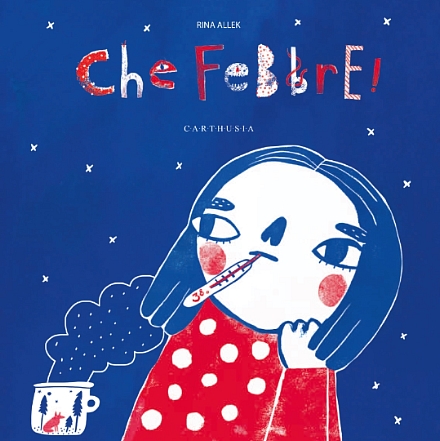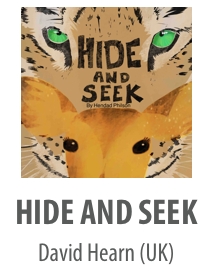 The authors of the book projects selected as winners receive a money prize of Euro 4.000 as advance for copyright with publishing agreement. The winning book projects are published by Carthusia Edizioni.
---
This year, one of the organizing committee's objectives was an increase in the number of participants and the VII Edition of the Silent Book Contest - Gianni De Conno Award, which closed on February 15th 2020 features 200 unpublished works from 38 different countries and areas. These include Algeria, Australia, Bulgaria, Chile, China, Colombia, Croatia, Cuba, Estonia, Finland, France, Germany, Japan, Greece, Hong Kong, England, Iran, Ireland, Italy, Kazakhstan, Lithuania, Mexico, New Zealand, Poland, Portugal, the Czech Republic, Romania, Russia, Serbia, Slovenia, Spain, the United States, South Korea, Thailand, Taiwan, Turkey, Ukraine and Hungary.
The 12 finalist and previously unpublished projects are:
"All the lonely people" by Mariann Maray (Hungary)
"Bolezn" by Rina Allek (Russia)
"Game, set, match" by Bistra Masseva (Bulgaria)
"Habitat" by Laura Maggioni and Giulia Bazzu (Italy)
"Hey Human, see what you do" by Milk DoNg Comics (China)
"Hey, I'm grey" by Daria Solak Illustrations (Poland)
"Hide and Seek" by David Hearn (England)
"La sciarpa blu" by Agnese Leone (Italy)
"La Serra" by Giovanni Colaneri (Italy)
"Odori della strada" by Olga Shevchenko (Russia)
"The courage, in mountain wind" by Li Yao (China)
"The Night Hunt" by Lucie Stastna (Czech Republic)
The 12 finalist projects
ALL THE LONELY PEOPLE – MARIAN MARAY
Short Biography
Marian was born in Budapest in 1978. She has always wanted to be a children's book illustrator since her childhood. She studied Italian Languange and Literature, and then Visual Comunication in Budapest. She illustrated her first book in 2012 and so far she has drawn over 20 titles, which are translated in several languages. She lives now in Budapest with her husband, her four children, a cat, a dog and parrot.
How the idea of the book was born?
I had been thinking a lot of a book about the people living in an apartment building, a community with people of all ages and different family status. But I never developed it until I've started singing in my head "Eleanor Rigby" by The Beatles. And then, as if by magic, I saw the full picture. The link among the neighbors is loneliness, they are lonely together.
What's the story about?
This book tells the story of an evening in the life of the residents of an apartment building. All of them are lonely and they don't leave their flats for some reason. Main reason is the rain, but we all know that they wouldn't leave it in any case. But all of them really want to go outside and they wish for company. Something needs to happen that mobilizes everyone. When I came up with this idea in December, I had no idea how relevant staying at home would have became, in the time of the pandemic.
Dedicated to...
I would like to dedicate this book to my children, but also to all the lonely people in our world.
---
BOLEZN – RINA ALLEK
Short Biography
Rina is an illustrator and animator from Moscow. She has recently graduated at HSE Art&Design School. She's inspired by nature, fairytales, folklore, dreams and nightmares. In her artworks, she mixes different techniques, digital and hand-drawing, linocut, etching, collage and others. She likes to tell stories through the book illustrations, but also comics and cartoons.
How the idea of the book was born?
Once that I was ill and I had to sleep on a very old couch at granny's house. This couch creaked like it was breathing or snoring, like if it was alive. Moreover sofas, bathtubs and other furniture have paws, so maybe they can walk…
What's the story about?
This book is about a girl who's struggling with illness, which showed up in the form of red centiped. She will win it with the help of a new friend, a jam and hot milk. Her friend is a magic sofa which can transform itself into different animals, like a wolf, cat and sea eel. Together they must get the magic strawberry from the top of the spruce, where the old embryo, symbol of the begging and the end of life, is sitting...
Dedicated to...
The idea of this book was born long time ago, but since this story is an allegory of the fight against a disease, I would like to dedicate it to all the people who fight for their lives now, and to all who provide help.
---
GAME SET MATCH – BISTRA MASSEVA
Short Biography
Bistra lives in Brighton, but she was born and grew up in Bulgaria in the 80s. As a child, she drew a lot and so she decided to study graphic design, illustration and typography. Few years ago, she moved to Brighton to keep studying illustration. She had been working as a graphic designer in the past, but now her focus is on illustration. She grew up loving hand marking, so she choose that path. She also thinks that working directly on paper can keeps you more focused.
How the idea of the book was born?
I wasn't watching tennis when the idea came to me, but actually a video of two funny kittens following something off camera with their eyes. That reminded me of spectators watching a tennis ball goes back and forth between players, everyone completely silent and focused despite all the excitement... the perfect narrative for a silent book! I don't know much about tennis so the game is just an opportunity to draw what I like: animals, movement, gesture, emotions.
What's the story about?
It is the Animal Open Tennis Championship, the Finals. Bear versus Hare. Who will be the winner? This match is the highlight of the sports year and everyone has come to watch it. The photographers are snapping away with their cameras. The competition is on! Game, set, match! I've decided not to reveal the outcome of the match, but let each child choose their own favourite and giving to the protagonists equal chances of winning. The focus of the book is not on winning, but on challenge, equal opportunities and the pleasures of watching sport, of course.
Dedicated to...
I would like to dedicate this book to my baby daughter who is my biggest source of joy and inspiration.
---
HIDE AND SEEK – DAVID HEARD
Short Biography
David Hearn is a writer, illustrator and picture books maker. After studying Art in Northampton, he worked in Portugal, Malta, Cyprus and the Maldives. When he thought about growing up, he decided to move back to England, where he lives now with his curly wife, a curly son and a smelly dog. He mostly illustrates his books while lounging on the sofa with his snoring schnauzer at his feet. He's still thinking about growing up.
How the idea of the book was born?
One morning, a deer spotted me, it stood bolt upright and became a statue. It tried to outwit me by hiding in plain sight. I wondered what a deer might do to fool a true predator. A disguise?
What's the story about?
Tiger is strong, Tiger is fierce and Tiger is sneaky. Today Tiger is hunting Deer. Deer is not strong, she is not fierce, but she is very, very sneaky. Using a series of outrageous outfits, Deer escapes to Tiger at every turn. But Tiger is not one to be outwitted, so he discovers the disguises and lies in wait. Is this the end for Deer or have we been deceived? Is Deer now hunting Tiger?
Dedicated to...
I dedicate this book to my mother, who likes to appear fierce, but I know it is only a game.
---
HEY HUMAN – MILK DONG
Short Biography
Milk Dong is an artist from Hong Kong, with 20 years of experience in drawing and design. He has been employed in different careers for livelihood due to the difficulties of living in Hong Kong: he worked as designer, visual merchandiser, art teacher, sales, customer service, warehouseman, waiter, fishmonger, coolie and many more. However, even after all of it, he never gave up on art.
How the idea of the book was born?
All creatures on the earth are beautiful, but many of them are endangered by human greed, since humans harm animals for their own needs. So, I wanted to do something for the endangered animals.
What's the story about?
I draw a series of illustrations with animal anthropomorphic, representing the abused animals and their tragic fate. I hope people who watch these have empathy for the animals, so that they can face the animal cruelty.
I believe in saving and safeguarding animals, securing a better planet for the future generation.
Dedicated to...
To the animals that are killed by humans and to the people who care about nature!
---
LA SCIARPA BLU – AGNESE LEONE
Short Biography
Agnese was born in Cagliari in 1987. She studied Fine Arts and Graphic Design in Sassari. She started her artistic career by learning engraving techniques. In 2015 she obtained a Master's degree at the Ars in Fabula-School of Illustration in Macerata. In 2019 she published her first illustrated children's book, "Su mundu incantatore de sas formigas e sons òmines", with Sardinian publisher Papiros. She is very fond of nature and she tries to portray the beauty of the natural world with textures and pictorial effects.
How the idea of the book was born?
I came up with the idea of a slow process, letting images run free through my mind. I wanted to draw the story of a child who runs into a fox and become its friend on a gloomy day. I had the images on my mind: the snow, the fog, the snow prints and the paths that made them encounter and, since that moment, take care of each other.
What's the story about?
It's a winter day and it's snowing has never before. A fox is lost and doesn't remember the way home. A bored boy in his room is looking at the snow outside of the window. He will hear that the fox's crying for help, so he covers it with his blue scarf and let it into his house, where they get to know and care for each other until Spring. This story is about why we need to take care of small things and build strong connections. It's about friendship and mutual care between the humans and nature ,and about finding a balance between two realities that share the same world.
Dedicated to...
This silent book is for my parents: they taught me how to see the beauty in nature and in small things.
---
ODORI DELLA STRADA – OLGA
Short Biography
Olga is an illustrator born in Donetsk (Ukraine) but he spent all her childhood in Russia. She studied graphic design and animation at the Moscow University of Arts. Currently she is based in Florence where she's studying Graphic Arts at the Academy of Fine Arts of Florence. She likes to work in traditional or mixed media, using watercolor and colored pencils.
How the idea of the book was born?
The idea for the silent book was born quite quickly, from my childhood memories of my dog. He once got lost, but soon returned home. After that, I became very curious to imagine the world through the eyes of my dog.
What's the story about?
This book is about a real friendship between a dog and its owner. This is a story through the eyes of a dog, for which everything has its own smell, so curious and inviting. Among thousands of interesting smells - food, people, fear, joy, roads or parks - there is nothing sweeter and stronger than the smell of a loved friend.
Dedicated to...
This book is dedicated to everyone who has a best friend - a dog.
---
I'M GREY – DARIA SOLAK
Short Biography
Proud 90s kid. Full-time girl and illustrator. She studied graphic design at Art Academy in Warsaw and Bologna and now she lives in London by choice. Addicted to crayons, coffee and children books (and following dogs on social media).
How the idea of the book was born?
Once I was working on illustrations of some animals for another project and I made one of a tiger full of coloful dots (to make him look cute and kids friendly). Since it's not something you can see in the nature, I started to think about back up story for him and this is how idea for the book was born.
What's the story about?
It's the story about the tiger that is completely grey. We meet him the moment that he starts to explore the world, with different landscapes, animals, environments and feelings. He gets new color of dots with every new experience and ends up as colorful as world around him.
Dedicated to...
For everyone who feels grey sometimes. Remember… Everything, even tiny thing, makes us colorful and unique.
---
LA SERRA – GIOVANNI COLANERI
Short Biography
Giovanni is an Italian illustrator currently based in Napoli. He was born 28 years ago in Isernia, Molise. He graduated in Graphic Art at the Academy of Fine Art in Florence and then got an MA in Illustration at the ISIA of Urbino. "Che cos'è una sindrome?" is his first picture-book published by Uovonero Edizioni. He has worked for Erickson, Sinnos, Il Foglio, UPPA, AIC, Futura Corriere della sera.
How the idea of the book was born?
It was a warm grey day of December, quite strange for the season. I was lost in my thoughts when I watched out of my balcony and saw some littles sparrows dancing on my plants. Then my day became colored and magic. Why not make a book about it, I thought.
What's the story about?
The story is about environment, magic and ambition. In a polluted grey world, a girl notices a colored bird, that will take her to a special place in the middle of nowhere, la serra. There, with thousands of plants, birds and other animals, something special is going to happen... a dream is a wish your heart makes.
Dedicated to...
La serra is dedicated to everyone who wants to make the difference and to all the dreamers.
---
THE NIGHT HUNT – LUCIE STASNA
Short Biography
Lucie Šťastná, born and living in the Czech Republic, is currently finishing a MA degree in illustration at the Ladislav Sutnar Faculty of Design and Art. Besides drawing and collage, she is fond of other related activities such as graphic design, embroidery, hand poke tattooing and she's interested in art history and theory. She co-founded Trashitycz project with hand-bound upcycled notebooks.
How the idea of the book was born?
The initial concept was about two animal protagonists with different and specific features who would go on an adventure together using their disparities in common benefit when needed. At night.
What's the story about?
The cover and the main title "The Night Hunt" already give some clues, but mainly it is about friendship, cooperation and a bit of hide-and-seek. We follow two unusual companions on their stealthy quest for food in the human territory with an unexpected third-party. The story can also refer to the wild animals forced to accommodate to the inevitable growth of urban areas into their origin habitat in order to survive.
Dedicated to...
I would like to thank to all my close ones as enthusiastic beta readers and especially my university teacher and illustrator Renáta Fučíková.
---
THE COURAGE IN MOUNTAIN WIND – LI YAO
Short Biography
Li Yao, whose written name is Da Niu, was born in 1973 and he is from Shanxi, China. He is the first caricature painter of serial stories in modern China. From 1994, Yao Lee has started to create caricature and his works have been published in many magazines. Until now he published 50 books.
How the idea of the book was born?
It comes from my childhood. My mom worked on cultural relic protection and lived in an ancient temple which is on the foot of a mountain. I often watched the immortals and ghosts in ancient wall paintings of the temple. I also used to wear the monkey king mask that my dad gave me, believing the mask could make me strong and powerful just as the monkey king.
What's the story about?
It's a story about a lonely boy. Everytime he is unhappy, he goes to the mountains and lives with an old statue of a monkey. One day, when the dark clouds and tree branches in the thunderstorm turned into innumerable terrible monsters, the boy felt frightened and helpless, but unexpectedly the stone monkey became unbelievably mighty. Also the boy, wearing his own monkey mask, bravely faced the fear. Finally, the boy who gained courage and self-confidence smiled in the mountain wind.
Dedicated to...
With this book, I want to cherish the memory of the mountain, its wind and myself, the little boy who was running in the wind, lonely and full of fantasy.
---
HABITAT – GIULIA BAZZU AND LAURA MAGGIONI
Short Biography
The two authors come from opposite parts of Italy: Laura is from Monza and Giulia is from Cagliari. They met for the first time at the Fine Arts Academy of Brera in Milan, where both were studying scenography. Then, they attended the Scenography Academy of Teatro alla Scala. They developed a friendship but also artistic affinity that brought them to decide to work together.
How the idea of the book was born?
We were in two different cities and the contest was an occasion to work together on something. It all started as a game of opposites: black and white vs colours, reality vs fantastic, two hands and two different styles mixing.
What's the story about?
Habitat is about the upsetting of a routine. The protagonist, resigned to the greyness of his days, finds in taking care of a little plant the starting point to evade his monotony and to give life to his office, in a dimension suspended between fantasy and reality. Nature is the way for him to bring colours in his everyday life.
Dedicated to...
To Antonello.